By: Ali Elizabeth Turner
2020 has been a year wherein we have re-discovered the deep need humans have for community, and for 66 years, Athens-Limestone has had a veteran-focused group that has been looking out for those who have been in the military and are residing in our area. The DAV is a national, congressionally chartered organization whose motto is, "Fulfilling our promises to the men and women who served." The DAV has been in existence since 1920, and in this one hundredth year of serving those who served, the local chapter has several projects underway, and they want you to know about them. For those of you who are not familiar with the national organization, here is a mini-bio to get you introduced.
"DAV is a nonprofit charity that provides a lifetime of support for veterans of all generations and their families, helping more than 1 million veterans in positive, life-changing ways each year. Annually, the organization provides more than 600,000 rides to veterans attending medical appointments and assists veterans with well over 200,000 benefit claims. In 2019, DAV helped veterans receive more than $21 billion in earned benefits. DAV's services are offered at no cost to all generations of veterans, their families and survivors.
DAV is also a leader in connecting veterans with meaningful employment, hosting job fairs and providing resources to ensure they have the opportunity to participate in the American Dream their sacrifices have made possible.
With nearly 1,300 chapters and more than 1 million members across the country, DAV empowers our nation's heroes and their families by helping to provide the resources they need and ensuring our nation keeps the promises made to them."
Recently I spoke with Chapter Commander Randy Welcher, along with Chapter Service Officer James Thoni, about the history of DAV Chapter #51 and what they are doing in our community. We were all in Iraq at the same time and at times on the same base, but our paths never crossed. Meeting them was a true joy!

Randy served in the Army and is a retired CW4 (chief warrant officer 4) Blackhawk Maintenance Test Pilot. Upon retirement from active duty, Randy began pursuit of an undergraduate degree in business and finished with an MBA from Columbia College satellite campus on Redstone Arsenal. James was in the Air Force, his rank when he got out was Tech Sergeant, Enlisted Communications Specialist, and James is a communications wiz. Neither had an easy time after their careers in the service ended. Many vets who have served have challenges that the VA can't begin to touch, and it is the community of former service members that becomes the foundation for a successful transition to civilian life. Randy and James don't particularly care for the use of the term "disabled," and as Randy pointed out, "Not all injuries are visible." The reason they are so passionate about the DAV is that because they have been profoundly helped, they in turn want to pay it forward.
James' first service project was in 2019, and he was part of a wheelchair ramp build. Later he got certified as a Chapter Service Officer, and his focus is to help file VA claims. He knows all the ins and outs of VA regulations (no small feat), and Randy got involved first by helping to build a wheelchair ramp for a sharp 92-year-old WWII veteran. This simple act of service enabled the man to stay at home and live independently, and served as some of the inspiration to also restore the local DAV chapter. Randy and James realize that the DAV promise begins in the local community and always needs dedicated volunteers to execute their mission. If you are interested in being active in the chapter, please contact them through their Facebook page, https://www.facebook.com/ALDAV51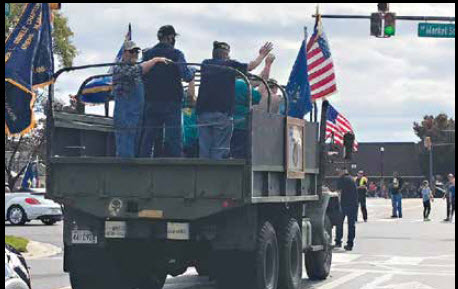 The DAV #51 building, which is located at 25396 Airport Road in Athens, is in need of a lot of repairs, and younger vets to join the chapter in order to carry on the vision. They work side by side with other veterans' organizations such as AMVETS, Veterans of Foreign Wars (VFW), the American Legion, and Vietnam Veterans of America (VVA). Even during COVID, the group of sister organizations has combined to volunteer an average of 1,000 hours per month taking vets to appointments, doing home repairs, making wheelchair ramps and covers, along with shopping for groceries and other needs.
Randy said, "We want to establish a coalition of services that provides support, activities, scholarships, transportation, and awareness of veteran needs, including suicide prevention and the need for recovery from substance abuse. One goal while in the process of repairing the building is to build an office for James so he can be on site to help vets file their VA claims and make them aware of other sources that help. They hope to organize bike rides, canoeing /kayaking, hiking, fishing, and other outdoor activities that a lot of vets enjoy. Randy's vision for the chapter building will be a place to meet, organize, and start these activities.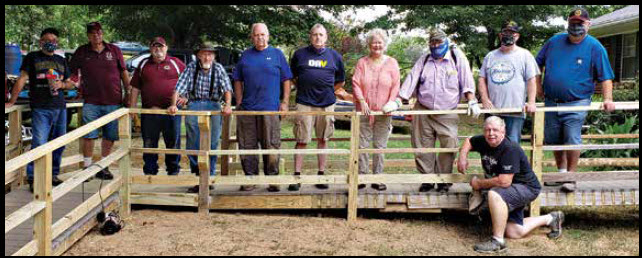 The DAV has several activities slated for 2021, and wants to invite the community as a whole to both support and enjoy what they have planned. In June of 2021, they will have a grand reopening, and are looking for people who want to give of their time, talents, and finances to "make the vision sure."
Fundraisers and activities will include grill outs, a fish fry, raffles for prizes such as guns, and the 2nd Annual Valentine's Day Raffle which will be on Feb 6, 2021. There will be a special raffle and prizes. If you are looking for a place to connect and serve, go to their website at AL.DAV.org/51 or on Facebook at https://com/ALDAV51/ And, speaking of service, our community says thank you to all who have worn a uniform to keep us free. Happy Holidays from DAV #51!
DAV
25396 Airport Road, Athens AL 35614
Donations: DAV Chapter 51 PO Box 1693, Athens, AL 35612Ali Elizabeth Turner