By: Cheree Vasquez
Crown Service Termite and Pest Control was founded in 2018 by Wayne Hemmerly and Stephen Corbett. Since then, this local company that emphasizes personal service and the highest professional standards has grown, and like any successful business, has had growing pains.
Enter Isabella LaFontaine, Wayne's daughter, who is described by the "Crown Crew" as being a life-saver. At the ripe old age of 22, Bella is a force to be reckoned with—started work at 15, managed a restaurant at 17, and is a smart, funny, curious, visionary, and hard-working millennial who has radically re-invented herself. She is transparent about "going sideways" for a while, and it took the birth of her precious toddler, Willow, and the prayers of her family to make her realize that her life needed to change, and quickly.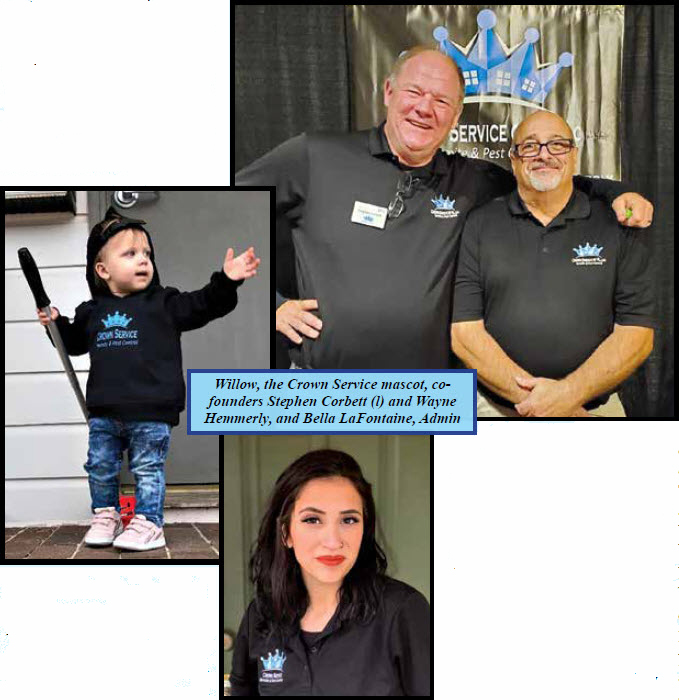 I will tell you more about Bella in a bit, but first you need to know Wayne and Stephen better. Wayne is from Nashville, has had extensive experience in construction through his late father's business, and along the way worked at a funeral home as well as manufactured products for movie theatres. Stephen was raised on a farm in the Carolinas, worked in the restaurant product and supply industry, and the two became best friends through working for big box pest control companies. They did well there, and worked together for 9 years, but both of them wanted to do it "better, cheaper, build relationships and give excellent customer service." Together they formed Crown Service Termite and Pest Control.
Crown Service is unique in that it was born out of a need for realtors to comply with state regulations and provide what is known as a "termite letter" before a house can sell. A selling agent has to provide documentation that a termite inspection has been made by a company certified to do so. Recommendation for treatment is offered, but what Wayne likes to tell people is that Crown Service "is an inspection company, not a sales company." When they first started out, they worked almost exclusively with realtors, but then word got around that they could provide outstanding and affordable treatment options for termite and pest control, as well as eradicating fungus. Since their inception, they have made thousands of calls, have built a base of repeat customers, and found they needed a bigger team to keep everything "flowing and going."
Other members of the Crown Service family are Beverly Simmons, who is affectionately referred to as "the office mama." Wayne told me, "Beverly keeps us all in line," and they would be in a world of hurt without her. Scott Romines and Todd Donovan are the inspectors, and Peter Hodge handles pest control. Rounding out the crew are Samuel Hodge and Harrison Hemmerly.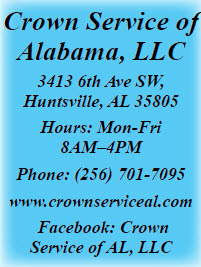 Bella joined the Crown Service team in February of 2020, and Willow is getting to grow up as the mascot of the business. She is getting spoiled by everyone, especially her grandfather, much like children of the 19th and 20th centuries. Since Bella came on board as admin, she has streamlined service routes, increased communications between clients and technicians, updated their website and Facebook page, created new marketing strategies, and organized accounts.
But what has set Bella apart in the realm of customer care is the use of some tried and proven "old school" systems to meet client needs. These include sending out handwritten postcards, calling or texting clients to let them know their service provider is on the way, and she "carries" clients with her in her cell phone. "You are not just a number to us, and you will never receive a robo-call from us. We want to actually talk to you and make sure you are being treated professionally, just like we would treat our own family. When a customer calls my cell phone, I know that it's them, and I greet them by name," Bella told me.
While Crown Service concentrates on termite letters and termite treatment, they also go after fungus and take care of crawl spaces. Under the category of pests, they will eliminate ants, cockroaches, spiders, silverfish, rats, mice, wasps, fleas, crickets, brown recluse spiders, bed bugs, and earwigs. Those "varmints" don't stand a chance. But snakes? "Nope. We don't do snakes," says Wayne. He will, however, put you in touch with someone who does.
Crown Service Termite and Pest Control will get under your house, and deal with rot and damage, install appropriate vapor barriers, and provide you as a homeowner with that most important thing: peace of mind. Call them today for a no-obligation estimate, and let them care for your home. They are here to help!
By: Cheree Vasquez