By: Ali Elizabeth Turner

About five months ago, three local businessmen decided to pool their talents and form a unique corporation called Cotton Row Companies. The three men are Zach Walker, real estate investor and owner of Revolved Realty; Keith Rowe, a local farmer and real estate investor; and Dr. Scott Fitts, a dentist at East Limestone Family Dental and a homebuilder. Last year, Zach purchased the old Gray & Holt building on Market Street, which has been used for a number of things, including Revolved's office, pop-up shops, a completely wired worship music venue for local teens, a place to record and film podcasts, and other private events. On the weekend of November 22-24, Santa is going to set up shop in the Gray & Holt building where Cotton Row Interiors now lives. Cotton Row is the sponsor of this year's Santa's Workshop as well as the Merry Market. The rest of the portended plans of the portly elf are explained in much more detail below in the Chamber's article on the Open House.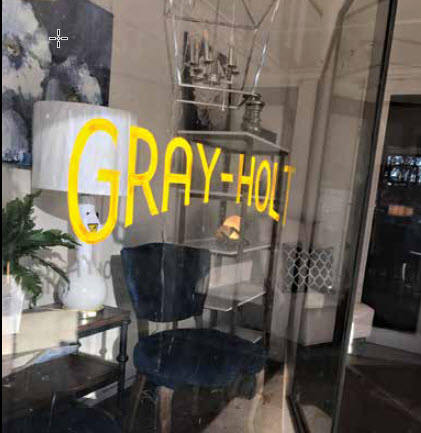 The "Interiors" part of Cotton Row Companies came about somewhat by accident, I learned from Zach. He and Keith have had years of experience staging houses to get ready for open houses, showings, and, hopefully, an eventual sale; thus creating living spaces that help cast a vision for how a potential buyer can make a house into a home. Over time, Zach has built a number of relationships in the interior design business, and a way recently opened up for Cotton Row to get truckloads of quality overstocked and returned furniture for a fraction of the cost. They decided to make it possible for the people of North Alabama to get solid furniture and defining accessories that they might not otherwise be able to acquire. And all of these savings could not have come at a better time, with this being the beginning of the holiday shopping season. Zach hopes to increase the type and amount of furniture for the warehouse sales to include dining room sets and more.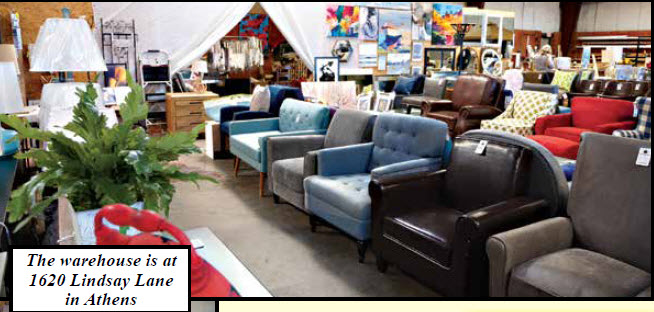 Last month, Cotton Row had their first warehouse sale at the nearly 7,000-square foot building located at 1620 Lindsay Lane, Athens, which is in the former Yellowhammer Roofing building. This past weekend they had their second sale, and I went in order to check it out. I was surprised at how reasonable the prices were, as well as how extensive was the selection. The event was well attended, and Zach told me when we chatted that he was pleased with the sales. We talked about Cotton Row's plans to have more warehouse sales, and Zach indicated that they will have a once-a-month event on the 3rd weekend of the month. Please note: There will be no warehouse sale during the month of December, but it will resume in January.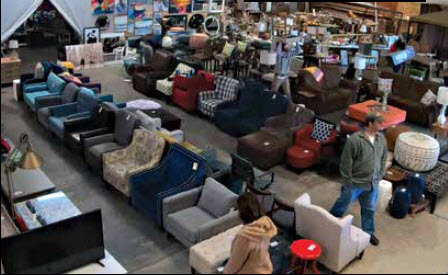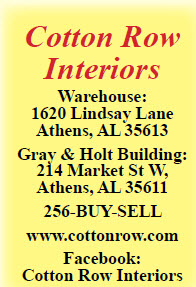 On Friday, November 28, Cotton Row Interiors is holding a Black Friday Sale at the Lindsay Lane location from 8-until. The sale will start again on Saturday at the same time. There will be outdoor tents set up which will create an additional 3,000 sq feet of display space, and both the warehouse and the tents will be full. Come early to make your selection, because when it is gone, it is gone!
Cotton Row offers interior design and staging services, and the group has a number of ideas for other projects that will be a boon to our local economy, as well as ways to give back. But for now, save the date starting with November 29, and give yourself the gift of getting comfy with the people and the goods for sale at Cotton Row Interiors.
By: Ali Elizabeth Turner