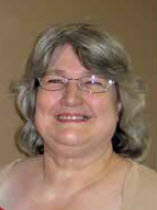 By: Wanda Campbell
It is not too late to register for the 4th Annual Women's Symposium on Wednesday, April 10, 2019, beginning at 9:00 a.m. at the Dynetics Solutions Complex, in Huntsville. This year's theme is "Beyond the Glass Ceiling: No More Limits."
We are pleased to welcome speakers Dr. Ruth D. Jones, Branch Chief for Industrial Safety Branch at NASA/Marshall Space Flight Center in Huntsville; Dr. Anne Marie Reidy, founder of Women4Women OBGYN; Ms. Julie Schumacher, President and CEO of KODA Technologies; Ms. Mary (Cathy) Dickens, who retired after a 37-year career as a civilian manager with the U.S. Army and joined COLSA in July 2015; and Ms. Jackie Warner, a Strategic HR Leader with over 20 years of experience in industry and human resources. She is the United States Division Senior Advisor of Talent Acquisition with Saputo Dairy Foods.
Your $59 registration fee will include admission to the event and access to an amazing panel of speakers, as well as networking breaks, lunch, and interactive discussions. This event is an opportunity for purposeful communication and strategic leadership development. You can register online at www.athens.edu/CLL or call the Center for Lifelong Learning at 256-233-8260.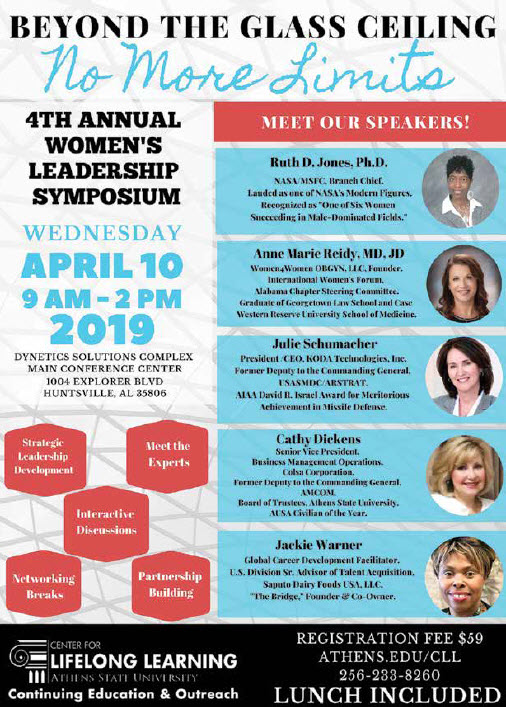 Back by popular demand, we are offering another Basic Blacksmith class on Saturday, May 4, from 8:00 a.m. to 4:00 p.m. A blacksmith is a metalsmith who creates objects from wrought iron or steel by forging the metal and using tools to hammer, bend, and cut. Whether you take the course for artistic reasons or for practical tool making, this class will teach you all the basics you will need for other projects. The class is taught by Travis Fleming and Al Stephens, local blacksmith artists and business owners. You can register on our website or you can call 256-233-8260.
I know that it seems impossible, but time is flying and it is only a couple of months until summer. Are you ready for kids to be out of school? At the Center for Lifelong Learning, we are preparing several Summer Camp opportunities. There will be science camps featuring STEM projects, slime, Legos and film animation. There will be language arts camps that feature creative writing and American Sign Language. There will be art camps that feature craft projects and painting, pottery, and cooking. And we can't forget the sports camps. This year archery will be back for beginners and advanced learners. We will also have soccer and golf.
With so much variety, there will surely be something for everyone. You can watch for information on our website – www.athens.edu/CLL – or call us at 256-233-8260. Our website is updated regularly; so you will want to visit often to learn about new classes, concerts, camps, and trips.
By: Wanda Campbell
Center for Lifelong Learning – 121 South Marion Street, Athens, AL 35611 – 256-233-8262