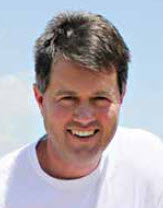 By: Garth Lovvorn
I like notes. I like to hear lots of notes played in interesting patterns whether it be dynamic scalar picking runs, sweep picked arpeggios, tapped notes in fluid shapes, smooth legato phrases, staccato notes, bended notes, divebombed notes, and every now and then, I even like slow notes. The bottom line is that I like notes played in melodious and soul shaking sequences that stick in my head and move me to challenge my imagination. I like rock, heavy metal, jazz, classical, R&B, and country notes. If there is a way that someone can grab a guitar and play notes that make me smile, then I authorize those people to keep on creating the notes that they are passionate about.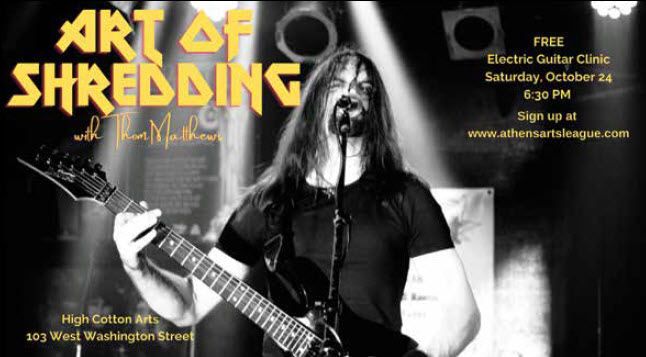 This brings me to the reason that I want to talk about a good friend of mine named Thom Mathews who like me also likes notes. Thom just happens to be on a level of playing notes that raises the bar quite high. After spending literally thousands of hours honing his guitar skills, he has risen to the level of a bona fide guitar shredder. While he is quite humble about his abilities, I will take the liberty of boasting in his stead. Thom, who was raised in the Mobile area of Alabama, grew up listening to the same types of musicians that I did. He is deep into bands like Megadeth, Iron Maiden, Metallica, and solo guitar based artists such as Yngwie Malmsteen and Steve Vai.

We were able to connect many years ago (1999 – ish) when my previous band, Fleshtized, was doing some gigs along the Gulf Coast. A mutual friend of ours told me that he had a friend named Thom Mathews who was an amazing guitar player, and he introduced us. We talked for a while and I knew by the things that he told me about his style and the players he was in to, that he was definitely someone who would be making waves in the music scene one day.

A few years later in the mid-2000s, Thom moved to Huntsville and got involved with the local music scene, which was going through a major boom phase. Gigs were plentiful, bands were releasing albums and getting recording deals, and hitting the road. Thom and I had the opportunity to jam together a few times, and we hit it off really well as musicians and friends.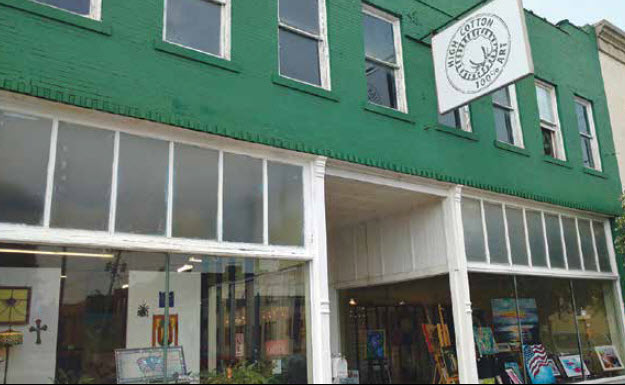 As Thom's guitar playing abilities were gaining notoriety, he was picked up by an independent label who released his first solo album back in 2008 entitled, Mindcraft. This album is a full-on shred-metal affair that combines the influences of progressive metal bands such as Cynic and Dream Theatre along with the 80's guitar hero phenom set, such as Marty Friedman and George Lynch. It makes for an intense listening experience to say the least; however, it is quite accessible for all fans of true unflitered guitar action. The pressing sold out and in 2011, Mathews released his second solo album, Entrancing the Populace, both of which can be heard by doing a keyword search on YouTube.
Currently, Thom is lead guitarist and vocalist with R.M.S. which stands for Riley, Mathews, and Strandquest. R.M.S. is an Atlanta-based band which includes Mathews, Angie Riley (bass, vocals), and Dave Strandquest (drums). They specialize in writing music that is very well rooted in the glory days of metal's old guard. They also function as Atlanta's premiere heavy metal cover band. They entertain audiences by digging deep into the vault where you are as likely to hear them belt out Bang Tango and Guns N' Roses tunes as you are songs by Megadeth or Motorhead.
Now that you know more about Thom Mathews and his guitar wielding abilities, I am asking you to come see him in person at the High Cotton Center on 103 W. Washington Street in Athens. The show will be taking place on October 24 at 6:30 p.m. Admission is free and it is for all ages. It is requested that you wear a mask during the event, and we will be practicing social distancing. There will be a time to hear him run through a few songs that will display his wide arsenal of techniques, and there will be a question and answer session to follow. Please come and join us as this will be a family-friendly event with the budding shredder and guitar afficianado in mind.
By: Garth Lovvorn