By: Ali Elizabeth Turner
For years we have heard the phrase, "Necessity is the mother of invention." The idea originated with Plato; the loose translation made its way to the English language in 1894, and most recently was put into action by Christy Todd of ChristyCare Senior Day Care. You see, Christy found herself in need of specialized care for her mom once a diagnosis of dementia changed both of their lives. Christy was working full time and tried utilizing personal sitters, but the cost was too expensive and her mother seemed to be declining just staying home. Christy wanted her mom to have a high quality of life, something to engage her more, and had been researching the benefits of socialization and how it had been proven to slow down the decline brought on by dementia. She said, "I knew there were other people like me taking care of spouses, parents, or grandparents, and that needed a break– A place that not only provided care but would bring joy and laughter and love to everyone." That's how ChristyCare was born.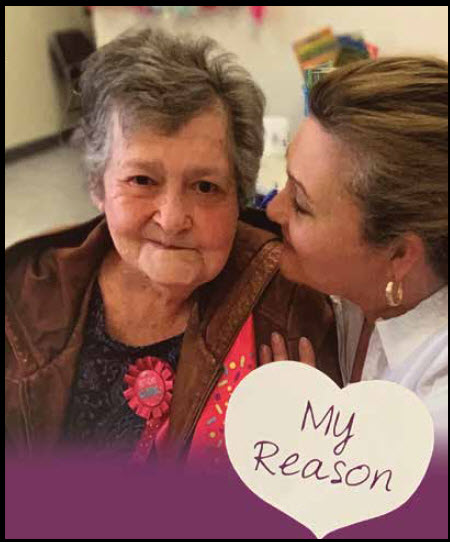 Christy Todd knows the medical world well. She has done respiratory therapy and has sold medical equipment. She also worked in the senior care industry as it pertains to visiting caregivers. She is resourceful, for sure, but the problem was that she needed to be able to take care of her mom as well as make a living. So, the doors opened right and left that led to the creation of ChristyCare Senior Day Care in Huntsville, as well as the Athens/Harvest ChristyCare that is located close to the corner of Capshaw and East Limestone Rd. Both locations were going great guns until COVID hit, and they had to close for a couple of months. But they are back open and ready to take care of your loved one who needs TLC during weekdays or on Saturday. Christy is certified in dementia training, but her truest "school" has been what she has learned in the process of caring for her mom; and now others are reaping the benefits.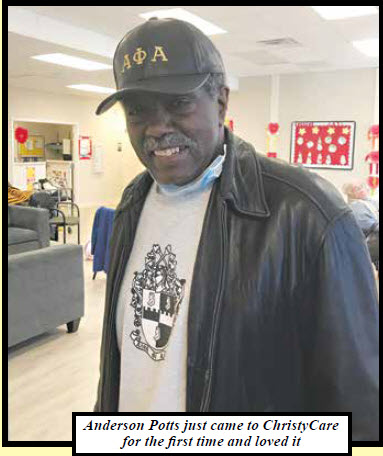 I visited the Harvest/Athens ChristyCare center and was thoroughly delighted by what I observed and experienced. It is bright, sunny, and spacious. There are examples of artwork and crafts created by the ChristyCare seniors. There are activities galore, which include dancing, basketball (appropriate for seniors), painting, storytelling, listening to oldies, and the hope is that when the weather warms up, a raised garden will be ready to plant in the outside back patio. I saw a video of Christy's mom getting a chance to experience a visit from a baby goat, and it was heartwarming. Sometimes (when COVID isn't a problem) younger kids get a chance to come in and interact with the seniors. The results for both are nothing short of amazing.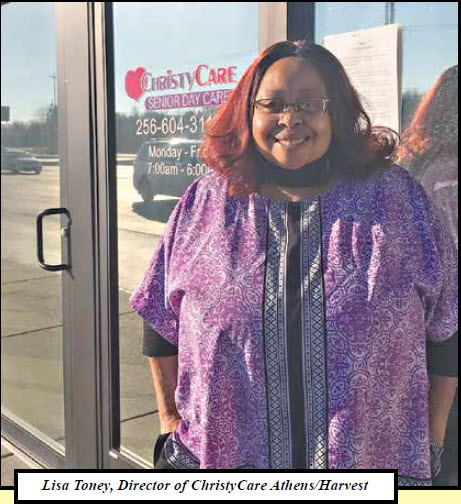 As wonderful as it was to see that there was lots of fun stuff to do, what sold me on ChristyCare is the obvious love of the staff for the clients, as well as how the clients enjoyed each other. Christy will be the first to tell you that her fierce protective love for seniors parlayed into a successful business is the result ultimately of walking in her calling. Her use of the word "precious" is not colloquial, she genuinely feels those in her charge are worthy of the description. ChristyCare is not just for people battling with dementia. Some folks have had strokes, some are hospice patients or have Parkinson's, some have balance issues, and some are just lonely or depressed. No matter their struggle, they are treated with love, honor, and respect.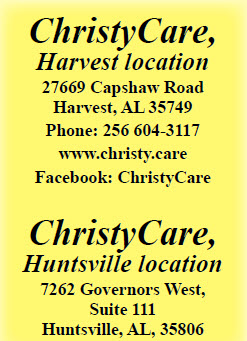 Recently, Christy had the pleasure of promoting Lisa Toney to the position of director at the Harvest facility. Lisa has the same heart of love as does Christy, and if either of my parents were still alive, this is the kind of care I would want them to receive.
Here are some real endorsements from raving fan clients:
"I love this place and ChristyCare caretakers. I take my 82-year-old husband here every day. Why do I love this place? Because my husband loves it here. He loves the workers and speaks glowingly of them."
Cathi Shomin Rotan
"My mom has been coming to ChristyCare for several years now. At the beginning, she was hesitant when I left. Now she can't wait for me to leave so she can have fun with her "new friends." She loves bingo, music days, and even looks forward to chair exercises! I don't know what I would do without ChristyCare!"
Dr. Gail Bundow
ChristyCare is a "home away from home for your loved ones." It is affordable, reliable, reduces stress for everyone, and improves family dynamics. A full ten-hour day is $80, half day is $60, and Saturday care (available at the Huntsville location) from 10 a.m.-4 p.m. is $65. The hours are Monday-Friday, 7 a.m.- 6 p.m., and special weekend packages are available. Call ChristyCare today to speak with one of their caring staff and see if this is a good fit for your family. At ChristyCare, everyone experiences a blessing.
By: Ali Elizabeth Turner