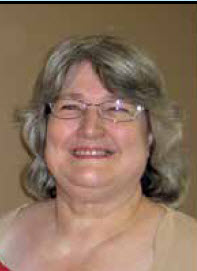 By: Wanda Campbell
It seems time is traveling faster and faster and before we know it, Christmas will be here. It is only 38 days until Christmas, after all.
As we are running from project to party and from errand to errand, it might be a good time to take in a Free Yoga Class. This is your chance to get started! This is a Level One Class connecting postures (asanas) with breath, flowing from one posture to the next. The class includes standing and floor postures while elevating the heart rate to a moderate level.This means you will be breathing moderately but still be able to speak. Depending on how you feel about your progress, the instructor will show ways to both increase and extend the pose or keep the pose at a beginner level. Bring your own mat; wear comfortable clothing. Classes are Tuesday, Thursday, and Friday, from 11:30 a.m. to 12:15 p.m. in the Carter Gymnasium, on the Athens State University Campus. Classes will run through December 13; no class on November 22 and 23.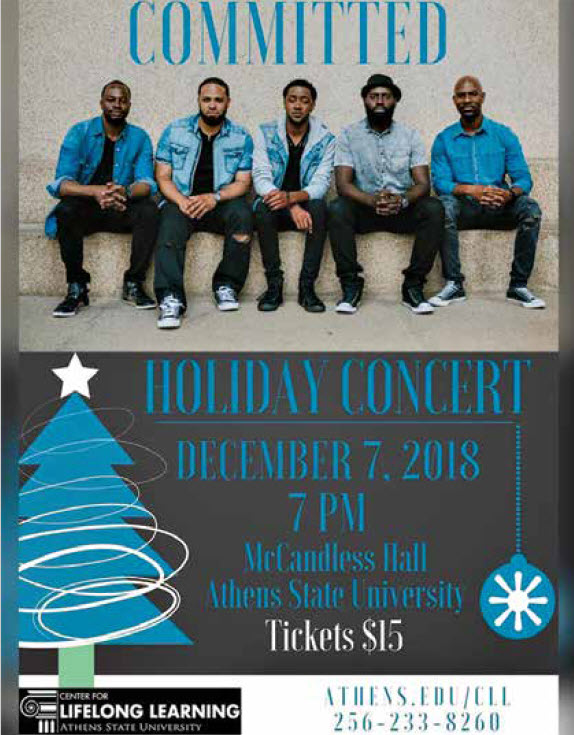 Only 19 days until the Committed Holiday Concert on Friday, December 7, at 7:00 p.m. in McCandless Auditorium on the Athens State University campus. Committed is an a cappella singing group comprised of five educated, young men who love creativity, music, and God. The group began in 2003 at Forest Lake Academy and solidified their sound while in school at Oakwood University in Huntsville, AL. Committed has grown to be a very sought-after a cappella group for many events around the United States and also overseas.
The group had the amazing opportunity to be featured on the second season of NBC's hit singing competition The Sing Off and emerged as the season two champions. It has been their strong faith, hard work, and creativity that has earned them the recognition as one of the nation's top ten a cappella groups. Committed truly believes that "with God all things are possible," and they will continue to work toward inspiring people through music.
You can buy your tickets on our website at www.athens.edu/CLL or call our office at 256-233-8260. Tickets are only $15. Seating is general admission.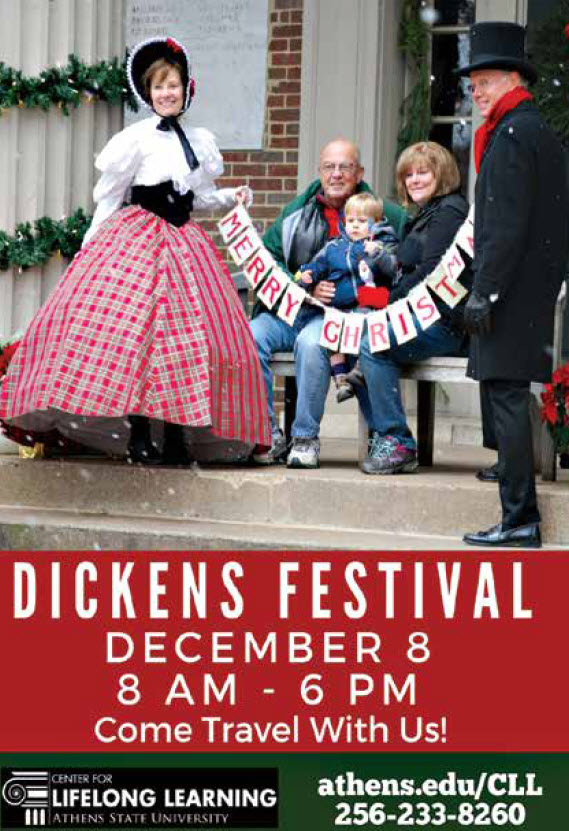 Don't forget to make your reservations as quickly as possible for the Academic Traveler trip to A Dickens of a Christmas Festival, in Franklin, Tennessee, on Saturday, December 8 from 8:00 a.m. to 5:00 p.m. Snow will be falling on the 34th annual street festival Dickens of a Christmas, an annual street festival that recreates the Charles Dickens era using historic downtown Franklin's Victorian architecture as the backdrop. Some 200 musicians, dancers, and characters will fill the streets, including several from Charles Dickens's stories. Expect to see and interact with the nefarious Fagin from Oliver Twist; Jacob Marley, Ebenezer Scrooge and Tiny Tim Cratchit with his parents from A Christmas Carol; and of course, a Victorian Father and Mother Christmas with treats for children. The fee is $75/person and includes transportation, and entry fees. Lunch is on your own. This trip has limited seating. For questions, call Wanda Campbell at 256-233-8260.
By: Wanda Campbell
Center for Lifelong Learning – 121 South Marion Street, Athens, AL 35611 – 256-233-8262