By: Ali Elizabeth Turner
Caleb Lawler grew up in Florence and graduated from Wilson High School. He played several sports at Wilson, was active in his church youth group, and also has what he calls a bit of a "tech/nerdy" side. Therefore, he chose to major in Computer Information Systems at the University of North Alabama. He interned with TVA at the Browns Ferry Nuclear Plant Training Center during his senior year, received his degree from UNA, married his beautiful bride Angie, and set out to work in the tech world.
Caleb worked in Huntsville for a Department of Defense contracting firm as a software engineer after graduating. The firm and team he worked with were based in California. They planned on building up their Huntsville office, but essentially he was in a building all by himself for close to two years. He knew that this wasn't a good fit at all as he was a social individual who had been raised to help people whenever he could. He took an opportunity as a software support engineer at Hexagon in Huntsville in order to do just that — work directly with others and help those in need.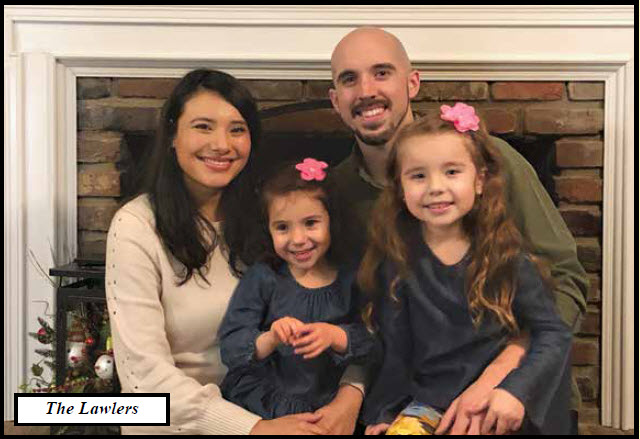 He and his wife, Angie, attended a course together that changed their lives. The goal of the course was for couples to learn how to gain peace in their finances. They were spared years of what statistically is the number one marriage killer: fights over finances.
"I really enjoyed finance as part of my studies, but I had misconceptions about jobs in that industry," Caleb told me. He knew he wanted to help others avoid the pitfalls that are so common in our culture; but the question was whether being a financial advisor could be the answer to his desire to help. Could he carve out a satisfying career that was also a calling? Could he make a way for Angie to be able to stay home with their children? The answer came at a BBQ held in his own backyard. Caleb had a friend he had known from kindergarten, and while grilling, opened up to him about not enjoying work in IT. His friend not only had several family members in the finance industry, but had just become part of it himself. "You need to look into it," said his friend. So, Caleb took his friend's advice.

Enter the well-known, solid, reputable and privately held financial advisory firm known as Edward Jones. Edward Jones has a rigorous ten-stage hiring process and Caleb passed. When I asked what stood out to him about the company, Caleb told me, "It was the company culture; the spirit of volunteerism impressed me. For example, during my training they had seasoned, veteran financial advisors take time away from their business, for no additional compensation, and teach us how to best serve our clients, what to say to say to them, how to ask the hard questions. That's how they do business, and that's why I took the 'leap of faith.' I was finally getting to really help people." And he genuinely loves what he does for a living.
Caleb describes the Edward Jones modus operandi as one that is "concentrating on getting to know clients — finding out their needs, goals and dreams, and then developing a strategy that meets their needs and unique situations. Once we find out what is important to them, we ask, 'Is this goal attainable? If not, how can we change things so that it can become attainable? How can we get them back on track and help ensure we stay on track?'"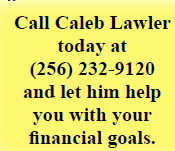 Caleb is adept at pointing out how making small changes can make a huge difference in the long term. "If you spend four dollars a day, five days a week on coffee, that's over a thousand dollars a year. That thousand dollars could really help you with your goals," he said. Essentially, when you hire Caleb Lawler, and by extension Edward Jones, you are hiring a partner in your finances. That does not mean living a life of sour parsimony, it means gaining a friend who is trained to see the genuine, proven possibilities that will help you get where you want to go.
On the lobby wall of Caleb's office, which is located at 1795 Hwy 72 E, Suite 101 in Athens, there is a black and white photo of Edward D. "Ted" Jones Jr., the son of the founder. He is with his horse and his dog, and it contains a quote that prompted me to pull out my IPhone and capture his words for myself. It was his response to being questioned about why he hadn't taken Edward Jones public, and to me illustrates why you want to schedule a no-obligation appointment with Caleb Lawler:
I am the richest man in America.
I have a wife who loves me in spite of my faults.
I have four dogs. Two love only me. One loves everybody. One loves no one, but still is very loyal and follows me everywhere I go on the farm.
I have a horse I love to ride around the farm, and best of all, she comes to me when I call her.

I have too much to eat and a dry place to sleep.
I enjoy my business.
I love my farm and my home.
I have a few close friends, and money has never been my God.
Edward D. "Ted" Jones, Jr.
1925-1990
Call Caleb Lawler today at (256) 232-9120 and let him help you with your financial goals.
By: Ali Elizabeth Turner