By: Ali Elizabeth Turner
For the folks of Boneyard Antiques on the Square, June 1 is a big deal. Let's talk about the good stuff first—the one year anniversary of the opening of the store, with an "everybody's-invited" birthday party which will last all day. More formally stated, Andy and Wendy Yarbrough would like you to come to their store from 9 a.m. until 8 p.m. for an all-day celebration, and the cake is going to be cut at 10 a.m. The store is located on the corner of Market and Jefferson on the Courthouse Square, and the address is 100 South Jefferson in Athens. Consistent with their love of whimsy as well as the past, in addition to a custom cake, they will be serving Tab, Fresca, and Moon Pies. If Wendy can get them, they will also have fresh Cracker Jacks in the nostalgic old-style packaging. There will also be door prizes and the chance to win a $50 dollar gift certificate redeemable (with some restrictions) at Boneyard.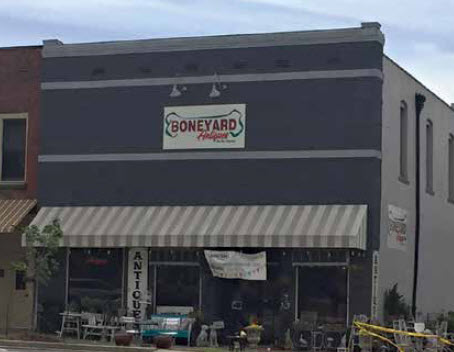 The 1st of June also marks what turned out to be the beginning of Uncle Bert Yarbrough's last battle. Andy's great-great-uncle, Bert was part of a family mercantile business which was located where Sweetest Things Tea Room now resides on the north side of the Square. On June 1, 1899 a brouhaha over property lines at the family farm in Clements broke out on Market Street. Bert, as well as Andy's great-grandfather, Walter Murray Yarbrough, along with his brother Will Yarbrough, came running out of the store. First it came to "blows and fisticuffs" only. Then, an 18 year-old youth by the name of Jesse Surginer fired a round into Uncle Bert's chest because he "felt threatened," and while Bert did not die immediately, ultimately the combination of the gunshot wound and the fact that he had tuberculosis ended his life. Suringer was charged with attempted murder; Jesse claimed self-defense, and the case went to the Alabama State Supreme Court. The Supreme Court ruled that self-defense truly applies only to the self, and Jesse got life in prison. When you walk into Boneyard, there is a portrait of Uncle Bert proudly displayed, as well as a copy of the newspaper article.
Incidentally, Walter Murray Yarbrough lived the rest of his life with a bullet in his shoulder and in 1910, became Athens Chief of Police. Wendy said, "We are thrilled that our important date coincides with that date of family history here on the Athens Square. The irony does not escape us. We have lived all over the country and have put down roots through community and school involvement everywhere we have lived. It is so wonderful to plant ourselves where we already have so many roots, here in Limestone County. We feel as we open our doors everyday at Boneyard Antiques that our ancestors are looking down and are saying, 'Welcome home.'"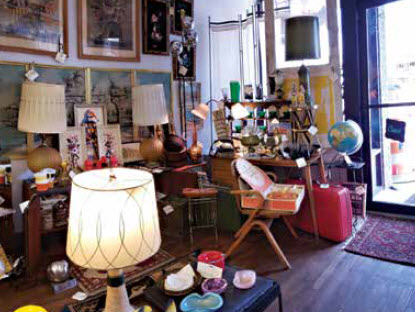 So, if you come to shop in what was the original McConnell's Funeral Home, what can you expect to find? Antiques, eclectic pieces, artwork, jewelry which is designed to be 'wearable art,' vintage clothing, candles, re-purposed pieces, and all kinds of barn wood. "We want to give people a chance to own a piece of history," said Wendy. There are also collectibles, books, signs, glassware, fine furniture, and recently, I purchased a ladder back chair that was just right and more than reasonably priced.
An interesting feature of Boneyard Antiques is Eva Anderson's selection of clothing that either requires corsets (which can be purchased or special-ordered and are helpful for women struggling with back pain) or has old-fashioned lace-up bodices as part of the fashions themselves.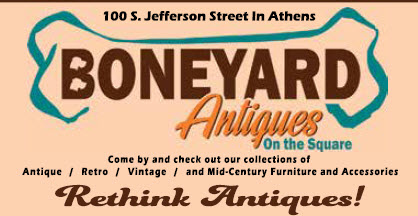 The Yarbroughs are committed to being fairly priced and going the extra mile to help customers find what they are looking for. "We want to make old things available in new ways, and preserve history," Wendy said. Why did Andy and Wendy give up other careers to open Boneyard? They are committed to honoring their own families' heritage and to build a unique community here. "We have been working toward this all our life," they said. Come to Boneyard and experience what it is like to "re-think antiques." You'll find what you are after, have fun while you are looking, and leave knowing you have new friends. And, don't forget the birthday party!
By: Ali Elizabeth Turner