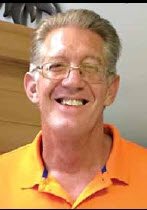 By: Roy Williams
One could say that your entire life is a balancing act. To make it through a day in our lives, it is necessary for us to balance our time, our water, nutrient intake, work and rest.
When it comes to developing good relationships, we find it necessary to balance the time we spend with those we care about, our moods, the tone of our voice, and, of course, our compassion for them and their interests. Working effectively with others demands that we treat others the way we would like to be treated. Sound familiar?
In order to be successful in any area of life requires balance. The amount of time we dedicate to work compared to the amount of time we play and how much we spend on our recreational time is also an important part of the balancing act.
But when it comes to your health, the most important balancing act is found in your ability to balance what goes into our bodies. Your health is totally dependent on homeostasis, which is the state of steady internal physical and chemical conditions maintained by living systems.
The state of equilibrium is the condition of optimal functioning for the organism and includes many variables, such as body temperature, nutrient absorption, hormone release, and fluid retention. If any of these go out of balance, your body will let you know by giving you signs, which can include, weight gain or loss, mood swings, irregular cycles, food cravings, digestive issues, depression, anxiety, irritability, low sexual desire, poor circulation, sugar imbalances, chronic infections, and even sleep disorders. In fact, almost all diseases, including aging, can be tied to imbalances.
When your body is balanced, there is almost nothing that it cannot overcome. Even cancer has trouble living in a pH balanced body. With proper nutrition your body can heal. Stop free-radical damage, decrease inflammation, and stay hydrated to avoid accelerated aging. Balance the hormones and you can restore the lines of communication that maintain balance.
True Body Balance
Here are some suggestions that can extend your life, will most definitely improve the quality of your life, and allow you to live to your genetic potential while feeling and staying youthful even into your nineties.
1) Stay hydrated and pH balanced. Staying hydrated is as simple as making sure you are consuming at least 64 ounces of spring water daily. If you wish to maintain alkalinity, add 1 drop of pH Plus to each 2 ounces of water. Staying pH balanced has been shown to help maintain proper hydration, speed up weight loss, and improve skin and vascular health; and many studies show that cancer cannot live in an alkaline body.
2) We live in a toxic society. As a result, we are bombarded with free radicals, which can cause accelerated aging of the skin, cardiovascular system, joints, and immune system. Antioxidants stop free-radical damage and are totally safe. For that reason, we recommend everyone supplement with MSM+C, which stops free-radical damage. In just four short weeks, you will know it is working because your skin will become softer, smoother, and prettier; your hair and fingernails will grow faster and become stronger. It also helps with digestive, joint and cardiovascular health.
3) Inflammation has been associated with disease of every type. Decreasing inflammation is easy and safe thanks to an herb that has been used for centuries called curcumin or turmeric. As it turns out there are many natural and safe ways to decrease inflammation and pain. The best one on the market today is called Relief. Relief combines turmeric, curcumin, Boswellia, white willow, bromelain, and many other herbs that fight the battle against inflammation.
4) Hormonal balance, slowing down the aging process, and in many cases, reversing the aging process up to 20 years in six months is now possible thanks to the discovery of a transdermal gel that raises HGH levels. Human Growth Hormone levels decrease with age. As your HGH levels decline the signs of aging increase. Using this transdermal gel has been shown to restore HGH levels and in every double-blind study proves to reverse the signs of aging by up to 20 years in just six months.
Using these suggestions will go a long way toward balancing your body and giving it the opportunity to stop and even reverse the aging process. To learn more, go by Herbs & More in Athens or NHC Herb Shop in Killen and ask for the free CD that explains the double-blind studies connected to HGH.
FREE CD Explaining HGH
Just take this article to Herbs & More in Athens or NHC Herb Shop in Killen and receive this remarkable CD absolutely free or have it shipped directly to your home at no cost (we even cover the shipping) by calling 800-745-4408.
Your friend in health,
Roy P. Williams