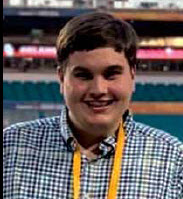 By: Blake Williams

A prime storefront in downtown Athens sold after being on the market for only one day. Danny Whitfield, David Gregory, and Stephen Ryberg purchased the vacant, historic 8 Balls Billiards building located at 100 W. Market Street.
The trio graduated from Athens High School together in 1982 and has major plans for the 2800 square foot building. The group of friends, now business partners, are not ready to announce exactly what they plan to do; however, they have the passion to enhance the downtown district.
Athens Main Street Executive Director Tere Richardson is excited to partner with the trio to welcome them to downtown Athens. "Seeing new life brought to a downtown building long vacant is one of the most exciting and gratifying components of the revitalization process," said Richardson. "You get to see buildings come back to life right before your eyes." Richardson wishes them well in their renovations and will be there to offer help along the way.
Athens Mayor Ronnie Marks said of the venture, "This is another exciting project for Athens, and I look forward to seeing this building repurposed into an asset for the downtown area."
"We have enjoyed seeing the excitement of the community on the possibilities of this project," said Ryberg. "Stay tuned for future announcements regarding this establishment very soon."
By: Blake Williams