By: Ali Elizabeth Turner
In February of 2019, Athens-Limestone Hospital received the welcomed news that they had been awarded a 4-star rating from Hospital Compare, a national assessment firm. Their purpose is to give prospective patients an opportunity to see how well the hospitals in the area are functioning, so they can make an informed decision as to where they will seek out-patient or in-patient medical care. Hospital Compare uses a 1- to 5-star rating, and the fact that ALH is at a solid 4 is a feather in the cap of their entire staff.
Not long ago, the idea of "customer satisfaction" when it came to hospitals was somewhat of an anomaly, but now has become an important part of what makes hospitals "tick." If a hospital has a poor reputation, just like in any business, word gets around and people go elsewhere. Hospital Compare compiles patient feedback from several categories and updates those findings twice a year. Those findings are made public and can be accessed at www.medicare.gov/hospitalcompare.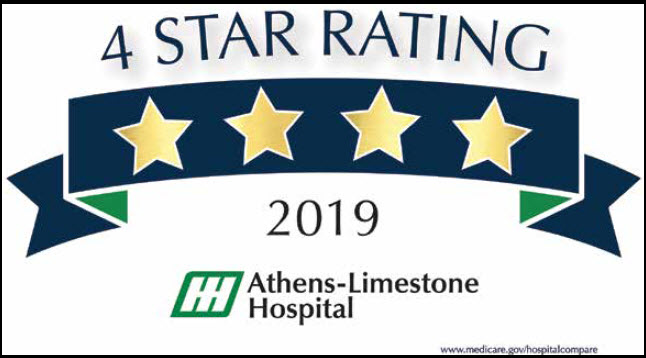 Sixty-seven years ago, Athens Limestone Hospital was a small community hospital with just 50 beds. While it has worked very hard to maintain the "feel" of a small-town facility, it now boasts the first-of-its-kind outpatient surgery facility in the State of Alabama. Located on Hwy 72, the beautiful new building has several things about which it can boast. The level of technology used in operating suites is matched by the music system and video choices made available to each patient. The videos utilize images of waterfalls, marine life, mountain scenes, and others that provide an extra "layer of calm" before and while the anesthesia is taking effect. These services are part of a bundle entitled the Olympus EasySuite Patient Greeting Systems. Patients who have been admitted to the surgical tower also appreciate that there is a pharmacy right there in the facility. It makes for one less place to have to stop on the way home, and there is also another pharmacy located in the hospital on West Market Street.
In addition to Hospital Compare criteria published in their findings, the hospital itself surveys recently discharged patients with specific reference to the unit in which they were treated. It takes a 75% patient satisfaction quotient in order for a team to receive the ALH Patient Experience Award. In the first part of 2019, the ICU, Sleep Center, Mother& Baby, 3 West, and Wound Care units all received a 100% rating. Other high-level contenders were Radiology, the Lab, and Operating Department. As a result, Athens-Limestone Hospital is now recognized as a Level-One Recipient from Alabama Performance Excellence, who recently gave ALH a GOLD designation for their performance and commitment in preventing falls.

Speaking of mothers and babies, Athens-Limestone Hospital is enormously proud of what they call "The Baby Place." Gone are the days of pacing fathers relegated to the waiting room and babies whisked away to the nursery; now the intent, according to Jody Wofford, Nurse Manager of The Baby Place, is to "focus on the wishes of the parents and attempt to meet all their needs, including birth plans and skin-to-skin contact after delivery." Research has shown that immediate contact between mother and baby helps stabilize infant body temperature, glucose, respiratory function, as well as the transition from the womb to the outside world. In addition, mothers bond more readily and powerfully with their newborns. In most cases, mothers in The Baby Place are able to labor, deliver, and recover in the same room, which reduces stress for everyone involved, especially the mother. ALH also is prepared to help mothers who, with the support and approval of their attending physician, wish to attempt a VBAC (vaginal birth after cesarean). If a cesarean is needed, the staff is ready. The Baby Place offers free breastfeeding classes which are taught by certified lactation specialists. Staff members are certified in emergency respiration practices especially designed for newborns, and in the rare event that parents lose a child, ALH has nurses trained in the delicate and difficult task of walking parents through bereavement. All in all, The Baby Place is one more feature of ALH that has blended "hometown feel" with latest technology, and is what contributed to the 4-star rating.
Athens-Limestone Hospital is affiliated with the Huntsville Hospital Health System, the nation's third largest publicly-owned hospital system. The 71-bed hospital has grown to more than 700 employees and more than 150 physicians. ALH's mission is "to provide each patient with the exceptional quality care, service and compassion we want for our loved ones." Finally, their vision is "to be the first choice for health care." And that is what will make Athens-Limestone Hospital continue to shine.
By: Ali Elizabeth Turner