By: Ali Elizabeth Turner

While we are still at the beginning of an unusual year, Athens Athletics is staying positive and gearing up for spring and summer. The chances are great that there will actually be teams that will be able to play real games, and it's a good bet that family reunions are going to be especially popular, even if there has to be social distancing. And, what is a sports season or a family reunion without a customized T-shirt or nowadays, a customized mask? That's where Athens Athletics, located at 701 US-31 S in Athens, comes in. Randy McKinney, who started the business almost 18 years ago is thankful that they were able to keep the shop open throughout 2020, and is also looking to hire.

As it was for many other businesses, the 2020 stay-at-home orders could not have come at a worse time. Randy literally was working on the shirts of several teams in preparation for the spring and summer sports seasons when the shutdown occurred, but he and his crew landed on their feet, and this past Christmas was so busy they were nearly living at the shop. Another thing that helped them get through COVID is that they are a U-Haul rental franchise, which was deemed an essential business. I can tell you that we have used their U-Haul services to go pick up people and their stuff more than once, and they have always treated us like VIPs.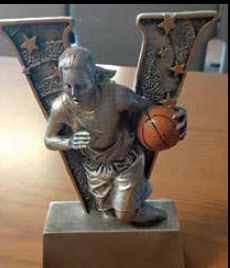 When you walk into Athens Athletics, you can tell that Randy loves baseball. The walls sport vintage posters of Babe Ruth and Lou Gehrig, and Randy has made a point of travelling to places like Fenway Park and Wrigley Stadium just to soak up the history of the game that has been called America's pastime. He likes the Braves, and is especially fond of the Boston Red Sox.
Athens Athletics specializes in sporting goods and T-shirts, and a tour of the facility showed me how complex custom T-shirt production can be. They can produce shirts that sport up to six colors (although those are rare) and have made a name for themselves for being able to turn orders quickly. Last year they produced the "We Are One Athens Limestone" T-shirts, as a visible brand of comfort for and commitment to our community during the quarantine and beyond. "We donated a dollar of every 'We Are One' T-shirt sale to the Full Tummy Project," said Randy. They also have made their mark in 2020 with custom-designed masks, and early on last year I was pleased to sport a black one with the white Athens Now logo across my face.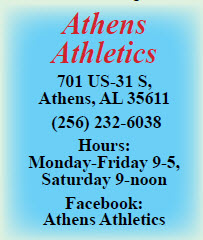 While custom T-shirts are the "bread and butter" of Athens Athletics, they offer several other services that can be seen all over our area. One of their most important services is custom embroidery. Randy showed me the computer-driven machine that produces and embroiders the logos for shirts, jackets, hats, and more. He loves doing the embroidery, but finds that often he has to delegate it because T-shirts demand so much of his time. The shop also has an engraving machine that can do wood, metal YETI-style cups, and plastic. They are the perfect blend of "artisan" and "professional," and while Athens Athletics has only been offering wood for about two years, it is one of Randy's favorites. You can see a local example of the wood laser craft work on the wall of Frame Gallery Off The Square on Marion Street and on trophies in the shop.
Another custom personalization product offered by Athens Athletics is what is called sublimation. An example of sublimation is a shiny front license plate with names and hearts, which would make a great Valentine's Day gift. Sublimated items are created by a heat process where the design actually goes into the metal. The result makes the colors bright for years, and they stay free of rust and corrosion.
I asked Randy why I should come to Athens Athletics for all my U-Haul, T-shirt, embroidery, sporting goods, laser, and sublimation needs. His answer was simple: "We have always tried to make the customer number one, and we want people to leave here satisfied." I can say from experience that this is what they do, and I invite you to come see what I am talking about.
By: Ali Elizabeth Turner