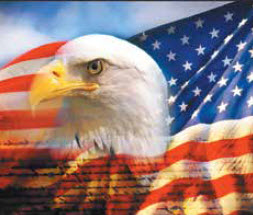 By: Ali Elizabeth Turner
Sometimes it's the simplest things that carry the day; in this case, it was the singing voice of a British woman by the name of Vera Lynn, who recently died at the age of 103. Vera was born in 1917 and was already a well-known singer when Hitler attacked England in July of 1940. The legends of how the Greatest Generation fought back and defeated him will hopefully never be removed from history, although these days, at times, it seems history itself is slated for extermination.
Dame Vera Lynn sang to the soldiers both in live performances as well as on the BBC; she once jokingly said that, "Winston Churchill was my opening act." Sir Winston would address the British people, and Vera's radio show, entitled Sincerely Yours would follow. Soldiers from all over the European theatre would send in requests for various songs to be sung, and her two most popular, "The White Cliffs of Dover" and "We'll Meet Again," still bring tears and standing ovations.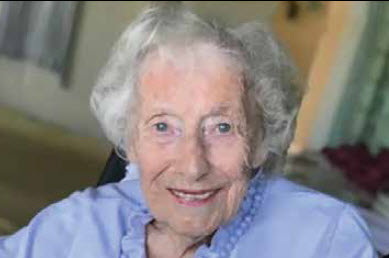 Queen Elizabeth herself, who drove an ambulance during WWII, played "We'll Meet Again" recently in a broadcast to the British people during this COVID pandemic to remind them that indeed they would beat back a new enemy and be able to "meet again." I think given what we are dealing with this summer, that was a good move, and a timely one.
What was unusual about Dame Vera was that she was one of the few women who traveled literally to the jungle to sing to the troops. She went to what at the time was called Burma, and here is her memory of those trips: "What they needed was a contact from home," she said. "I entertained audiences from 2,000 to 6,000. And the boys would just come out of the jungle and sit there for hours waiting until we arrived and then slip back in once we'd left."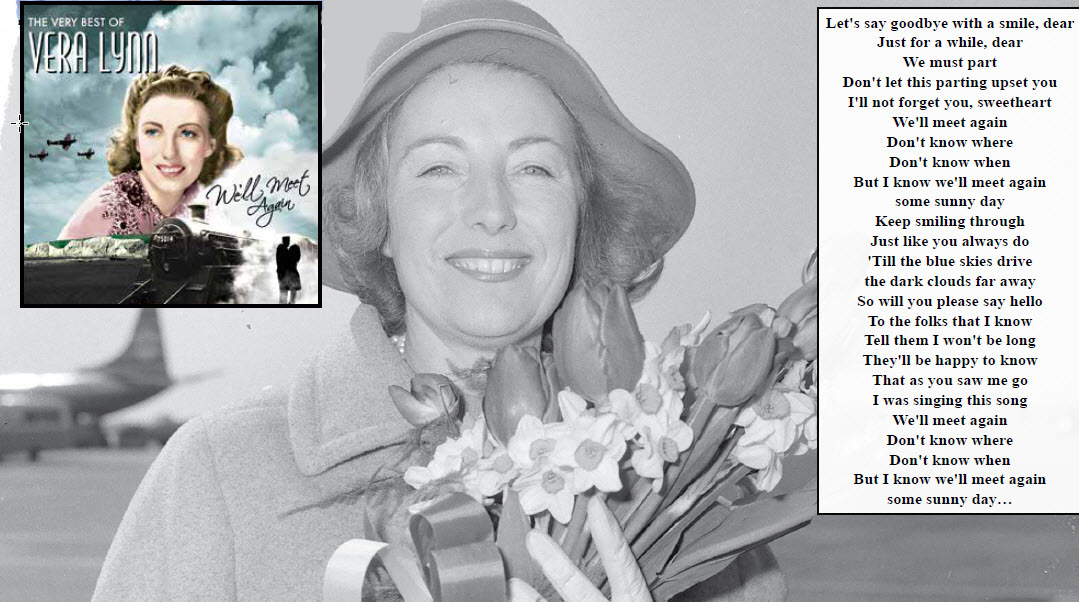 In 2009, at the age or 92, she released a "best of" retro album entitled "We'll Meet Again," which topped the charts in the UK. This was no small feat, as it came out at the same time as a re-mastered album of Beatles' music, and it beat out the Beatles! On the 75th anniversary of Normandy, her music was played aboard the ships which retraced the voyage to the invasion. It is said that the tears flowed freely amongst the men who were on board and had made the trip the first time under truly hellacious conditions.
Here are the words to "We'll Meet Again," and today they are especially meaningful to me. I hope you find them to be of encouragement as well:
Let's say goodbye with a smile, dear We must part
Don't let this parting upset you
I'll not forget you, sweetheart
We'll meet again
Don't know where
Don't know when
But I know we'll meet again some sunny day
Keep smiling through
Just like you always do
'Till the blue skies drive the dark clouds far away
So will you please say hello
To the folks that I know
Tell them I won't be long
They'll be happy to know
That as you saw me go
I was singing this song
We'll meet again
Don't know where
Don't know when
But I know we'll meet again some sunny day…
By: Ali Elizabeth Turner