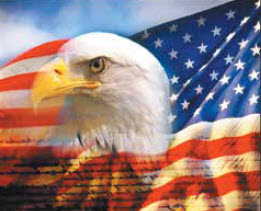 By: Ali Elizabeth Turner

Vets are used to facing down threats, but few things can be more daunting than fighting for your business in front of the likes of famed investors Mark Cuban, Daymond John, Barbara Corcoran, Lori Greiner, Robert Herjavec, and Kevin O'Leary of ABC's business reality show, Shark Tank.
The Tank first aired ten years ago and has become a monster hit, most likely due to the miraculous turn-around of our economy. People are realizing that America is still the land of opportunity, and veterans are parlaying their skills learned while serving into profitable businesses that are also passionate about giving back.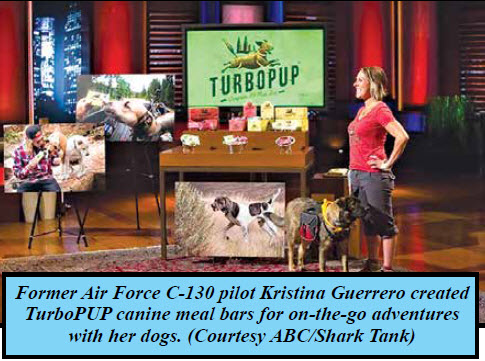 One of the Sharks, Daymond John, has an especially soft spot in his heart for vets, and until March 20th, if you are what has come to be called a "veteranpreneur" with a "bootstrapping biz" that needs investors, you can apply to be on the episodes dedicated to honoring vets, and face down the Sharks. If you get selected from the thousands that apply, you might just end up travelling up the Empire State Building elevator with Mr. John to "sign on the dotted line."
That is exactly what happened to former Air Force C-130 pilot Kristina Guerrero, who created TurboPUP canine meal bars for her dogs. Kristina was trying to find something that could function as a MRE (Meal Ready to Eat) for her canine companions when they would go on outdoor adventures, but there was nothing out there. Seeing how business is all about finding a "pain point" in the market place and then relieving the pain through goods and services, she developed TurboPUP as a way to make sure her dogs had what they needed. Before jumping in the Tank, Kristina had about 30 stores carrying TurboPUP, and after partnering with John, that number has now jumped to around 1,000.
One of greatest benefits of having a Shark invest in you is their commitment to mentor you. After all, they are risking thousands of dollars as well as their reputation by partnering with you whether you are a vet or civilian, and being tossed in the tank and told to swim solo amongst all the sharks out there is not in anyone's best interest. Kristina says that the value of Daymond John's level of mentoring and support has been inestimable.
Other examples of vet ventures that have thrived in the Tank are Bottle Breachers, which takes dummy .50 caliber shells and converts them into bottle openers, and R. Riveter, which makes handbags out of up-cycled military surplus. Bottle Breachers was started in the garage of a former Navy SEAL, and R. Riveter is the dream child of several military spouses who went in together to bootstrap.
No matter the product, the heart of veteranpreneurs to give back, whether it's to vet support organizations or other nonprofits runs fierce and deep. Former Navy SEAL Elijah Crane, who with his wife Jen started Bottle Breachers had this to say:
"If cash is king, having a mission is queen. This is so important. The mission is up to you. For us it is to employ veterans and give back to veteran nonprofits. Not only does it give you one more reason to succeed, but it also helps the team that you have built feel like they are a part of something much bigger than a paycheck."
The Heroes to CEOs contest is in its third year, and is sponsored by Bob Evans Farms, the parent company of Bob Evans Restaurants. To apply to get in the Tank, go to www.ourfarmsalutes.com. But hurry, they must have your application by March 20th.
By: Ali Elizabeth Turner