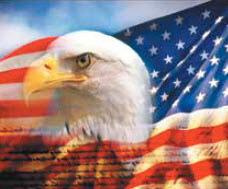 By: Ali Elizabeth Turner
Every year, the Military Charity Organization selects a member from each of our nation's military branches to receive the Service Member of the Year Award, and in 2018, added an additional award that singles out one overall winner. It is time to put in your nomination for a currently serving and outstanding Marine, soldier, Coastie, sailor, or airman, and the nominations close on February 28.
The first award was given in 2001, and sponsored by the Army Times. Since that time, the ceremony has become a highly attended event in Washington DC, with high-ranking military leaders, members of Congress, fellow service members, and other distinguished guests in attendance. The purpose of the award is to recognize and thank a service member who has demonstrated achievements that are exemplary and go far beyond the call of duty.
According to the Service Member of the Year website, the criteria for selection are as follows:
"Nominees must be U.S. residents (excluding Puerto Rico) who are U.S. active military, a member of the one of the military reserves through August 2018 and are 18 years or older at the time of entry.
To be considered for this award the advisory board committee is looking for nominees with exceptional service or achievements occurring between January 1, 2018 and December 31, 2018.
Nominees must demonstrate: a high level of professionalism, concern for fellow service members, [and] commitment to community service."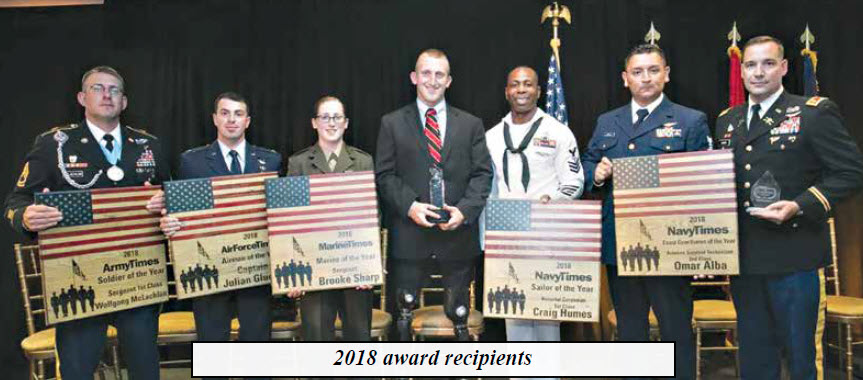 The Veteran of the Year Award, a new award that was added in 2018, "recognizes and honors an exceptional veteran who, through his character, spirit, and exceptional public service sets an example, and makes an extraordinary difference in their community, for their comrade veterans and for awareness of essential military and veteran issues." With the suicide rate increasing amongst veterans, it is more important than ever for vets to watch out for each other.
The Military Charity Organization will make the selection beginning in March, and the winners will be notified on or around April 1. Winners from each branch will receive:
A VIP trip to Washington, DC for activities and a formal awards ceremony
All-expenses paid attendance for 2 (transportation to and from Washington, D.C.; lodging and meals; local transportation)
Formal awards reception and ceremony on Capitol Hill
Professional photographs and video of the awards ceremony
A feature in the Military Times websites, newspapers, and on the Service Members of the Year website.
There are a host of sponsors, including Fisher House for Military Families, Delta Airlines, Starbucks, the VFW, Armed Services YMCA, Wounded Paw Project, Lyft, and more.
The Honorary Selection Committee is comprised of every member of the United States Senate and House of Representatives; and civilians as well as service members can take place in the nomination process. In order to nominate a service member, you must fill out the form as well as write a no more than 500 word essay as to why your nominee should win. Qualities discussed need to include ways in which they have exemplified courage, service above self, charity and volunteer work out of uniform, and stories of making a difference. They also have to be serving in their respective branch until August of 2019.
If you would like to honor someone you know to be a wonderful warrior, please go to www.servicemembersoftheyear.org before February 28, 2019. Thank you!
By: Ali Elizabeth Turner