By: Ali Elizabeth Turner
Nestled just off Highway 72 and Mooresville Road in East Limestone, there is a thriving family business built on values many find missing in today's culture. Before the Industrial Revolution, businesses were focused around family life. Family homes were typically attached to or located near the family business. Children flowed in and out of business seamlessly, and customers were treated like extended family. Being at All Stitched Together is almost like stepping back in time. Owner Brandi Harris, with the support of her husband, Joseph, is weaving old-fashioned values back into the fabric of American life with a full service crafting storefront located on the property where the family lives in a sunny, inviting building constructed by the couple themselves. All Stitched Together is teaching the lost art of sewing, teaching entrepreneurial skills, and by extension, building and strengthening the community.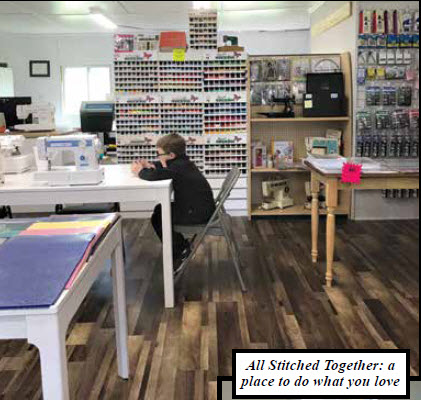 Brandi knows what it's like to be a single mom, and that is some of the passion that drives her. All Stitched Together started out as a hobby, with Brandi sewing outfits and other items for her infant daughter in 2006. Soon moms at daycare asked her to sew things for them. Word of mouth spread, and a business was born. In 2012, the hobby grew so much that Brandi decided to make it official and launched All Stitched Together. Today, All Stitched Together has nearly 12,000 Facebook followers.
When I asked her where she got the idea for All Stitched Together, Brandi replied, "All great business ideas start at the kitchen table, and that is exactly where my business started. The kitchen is the heart of the home, where we meet to discuss our day, where we talk about our dreams as a family, and where we make decisions about our future. I want All Stitched Together to be that place for every customer who walks through the door. We have kitchen tables in our classroom at All Stitched Together for that very reason."
All Stitched Together is an authorized Siser Heat Transfer Vinyl, and Starcraft Distributor with over 600 choices of Heat Transfer and Adhesive Vinyl in stock. There are classes to help newcomers learn how to create T-shirts and vinyl projects using Cricut and Cameo Crafting Machines. Sewing classes are held regularly for both adults and children. Just like any business in town, All Stitched Together has set store hours and a Facebook page.
I asked Brandi, "Why do you do this, and why should I come to you?" She replied, "I love helping people." She is all about helping women grow. She said her favorite part of All Stitched Together is helping people learn they can not only be successful, but they can love crafting. All Stitched Together's business motto is, "Love What You Do," and her love for people shows in every aspect of her business. The way Brandi describes it, "We are welcoming, answer any questions you have, do not compete with our customer's businesses, and do everything we can to help those around us succeed."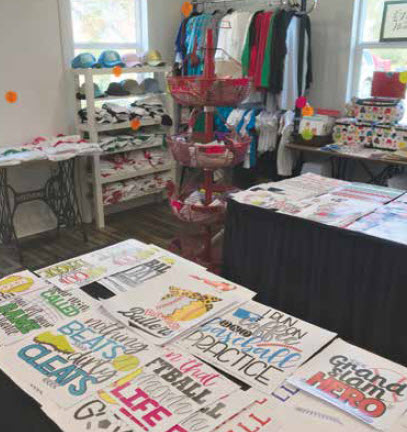 When you walk into the business, you will be greeted warmly by friendly faces, including Ms. Donna Pressnell, Ashton Butler, and Kaitlen Carroll. Brandi told me that Ms. Donna helped her with All Stitched Together when she relocated to this area in 2013, and was able to rejoin her when she retired in November. Brandi said she has been blessed not only by a loving, supportive husband, but amazing friends that make All Stitched Together what it is today.
As a business owner who has successfully turned her creative gifts into a full-time income, Brandi also teaches others how to be successful in their own crafting businesses; she does this while she homeschools her three children and Joseph works towards an engineering degree. Women in our area have expressed how All Stitched Together has helped provide the tools they need to grow their businesses. Brandi has worked with local shops such as Garner's Custom Designs, LB Clothing & Things, Rusty Rose Boutique, and The Last Word Vinyl Creations. While I was at their East Limestone location doing this interview, people came and went, were greeted like family, and the children were adorable. Brandi chuckled a little as she told me that the customer's children often cry when their moms say it's time to leave. Children have their own play area while their parents shop and often play with her children while visiting.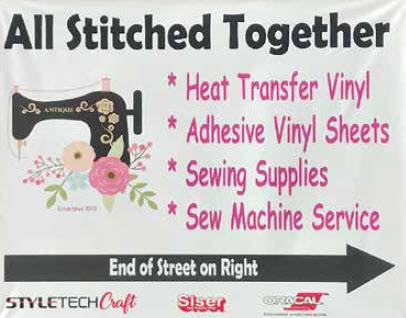 Brandi and Joseph have a great love for old machinery and bringing sewing machines from the 30s-70s back to life. All Stitched Together provides sewing machine maintenance and repair for all types of machines. They also provide custom print services for businesses and charities, including banners, signs, custom vehicle decals, and more.
If you are looking for a place to be creative and build community, look no further—All Stitched Together is just what you need. Located at 25304 Maple Wood Drive Athens, AL, and inside Garnet's Collection of Shoppes at 116 N Jefferson Street, they are sure to have what you need to get started crafting today! They will be ready with full hearts to help you find exactly what you need. Don't forget to like them on Facebook at www.facebook.com/allstitchedtogether and on their website at www.allstitchedtogether.com where you can sign up for classes or shop online.
By Ali Elizabeth Turner