By: Ali Elizabeth Turner
Over the years, I have found that most often the best health care practitioners, whether they are mainstream or natural/complementary, are those who have had to wrestle with intense health challenges themselves. Many times they have tried everything from the allopathic to the alternative, to no avail. Then, something clicks, something works, and the triumph translates into a passion to make a living helping others. That is the case with Aimee Phlegar, whose practice is located at 26330 Old Highway 20 in Madison, right across the main entrance to the new Toyota-Mazda plant. Aimee has a bachelor's degree in kinesiology with a minor in nutrition, and has previously worked in the Houston area. Her clients at that time included professional athletes, a military officer with multiple sclerosis whom Aimee helped learn to walk again, people who wanted to train for races, and more. Aimee was a competitor herself, and had fierce battles with pain in her back as well as anxiety, which would result in panic attacks which sometimes occurred several times a day.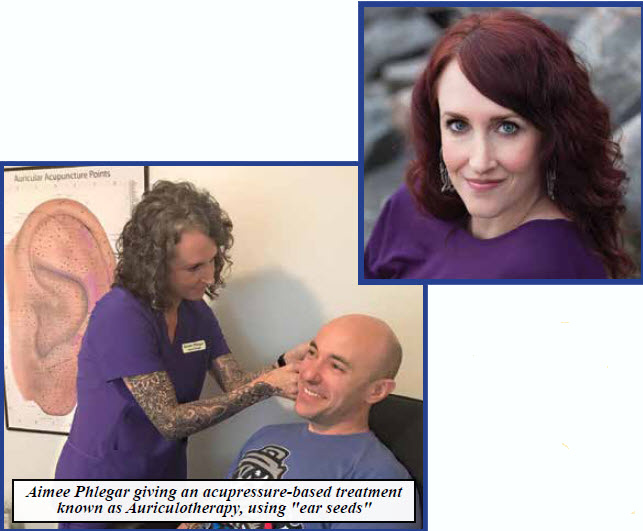 Her husband, Chris, was career military, recently retired, and flew Chinook helicopters during several tours in Iraq and Afghanistan. Aimee's symptoms became worse when Chris was deployed, and she was on several medications. She hated the way they made her feel, so she began to look outside the pill box for answers. She found several alternative modalities that were immensely helpful, was able to get off all of her meds, and became certified to practice. Aimee also recorded her story in the form of writing a book entitled, "The Journey – Your Path Back To You."
Aimee has several favorite therapies that help her to help others. Her "babies" are auriculotherapy (ear acupressure); Neuro-Nutrient Therapy, which assists the body in producing neurotransmitters through the use of specific amino acids; and Reiki, which is an approach that utilizes what science calls biofield energy through relaxation and often the laying on of hands. Below is a more detailed description of each modality. Please understand that no promise of cure for any disease or condition is implied in this article. That being said, testimonies of relief abound, which is why Aimee does what she does. For her it's a calling, and she expects each person to do their due diligence when it comes to making sound decisions, including consulting with their health care practitioner as to next steps and long-term strategies. Aimee wants to be a guide on a journey, someone who essentially empowers to reclaim their total health. She also runs an online school which has 12,000 students.
Auriculotherapy
Your ears contain complex networks of pressure points, and these points are linked to the brain's message centers, which in turn affect the rest of the body. By placing small seed-size acupressure devices on these linked points, steady stimulation can last for several days, and the body will often mend itself when given the right stimulation. "Ear seeds" can actually consist of vaccaria seeds, stainless steel, 24K gold, or Swarovski® crystals and are secured with a special tape. Auriculotherapy has been known to help with PTSD, all pain including headaches, allergies, weight loss, insomnia, stress/ anxiety, hormonal imbalances, smoking cessation, and more. Some people have experienced what could be described as immediate or miraculous, others need several treatments. It's important to remember that people don't come out of a cookie cutter; they are different and results vary widely.
Neuro-Nutrient Therapy
This approach was developed over four decades ago, partly as a response to the negative effects of what is called the MAD (Mainstream American Diet) or the SAD (Standard American Diet). Processed, devalued food that is high in sugar and low in nutrients can wreak havoc on physical as well as emotional health. These negative effects can also be affected by stress, genetics, hormones, as well as environmental factors. Lifestyle change as well as the introduction of specific amino acid supplements can often be of help. These are not "one-size-fits-all" approaches, nor are they fad diets; they are ways of giving the body the right kind of fuel to restore itself. This method is used to treat depression, anxiety, panic, PTSD, addictions, eating disorders, as well as for weight loss.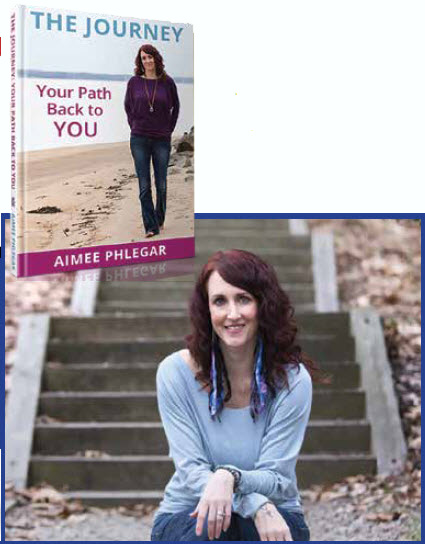 Reiki Therapy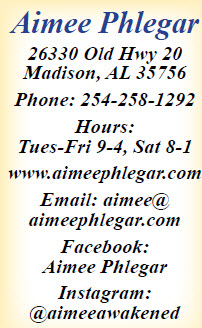 Reiki was codified in 1922 Japan, but has been used for centuries in many cultures. It is a natural and safe method of stress reduction and relaxation that helps the body promote its own healing. Reiki has been known to also help with moods, pain relief, and the increase of energy and vitality. It is utilized in more than 800 hospitals in the United States as a regular part of patient care. A study conducted by Hartford Hospital in Hartford, CT, showed dramatic reduction of pain, healing time, nausea, and anxiety, and marked improvement in patient sleep, mental attitude, and reduction of negative side effects during chemo or radiation therapy.
Aimee makes it clear that her primary concern is your safety, wellness, and quality of life, and she loves to educate her clients. Her clients today come from all walks of life and all ages. She especially loves working with those that have not found relief in traditional methods. She is an accredited member of the American Association of Drugless Practitioners and the International Association of Therapists. Call her today for a consultation or appointment at 254-258-1292.
By: Ali Elizabeth Turner