By: Ali Elizabeth Turner
Nurse Practitioner Brady Aderholt has been in the medical field for 11 years. He has worked in the ER, has dealt with psych patients, internal medicine, and more recently with COVID-19. When the coronavirus hit last March, he and the whole staff at Athens-Limestone Hospital were working around the clock to deal with a great unknown which, as Brady says, "is real and it's here." It was at that time that he began to see the need for an affordable, accurate COVID testing facility that could get people diagnosed quickly and if at all possible, keep them out of the hospital. He formed Aderholt Medical, LLC, and at the moment the mobile urgent-care facility is located at 320 Old US Hwy 31, where 31 and AL Hwy 251 intersect. The drive-through facility has been graciously offered space by a local church, and Brady estimates that he has been able to have kept 5 elderly patients who tested positive for COVID from having to be hospitalized, with only having been opened for a week.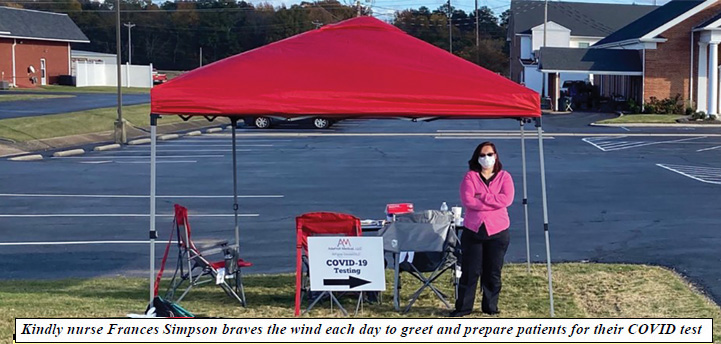 How is Brady and his team able to do that? They have a collaborating physician, a team of dedicated certified medical professionals to help, and a test that is 97% accurate. Brady has a courier service that delivers tests to a local lab that Brady personally knows and has worked with before. Brady is still working nights at Athens-Limestone, and one of the reasons he chose to start Aderholt Medical is because he wants to help lift the load of his fellow medical first responders. Another is to do everything he can to help our community through COVID until it is no longer disrupting our lives, and to do so with testing and care that exceeds his competitors. While there have been many screening centers in our area, which largely rely on taking temperatures and then vitals, Aderholt Medical is the only facility of its kind in Athens, and they are hoping to expand into other arenas that are the scope of urgent care facilities at a fraction of the cost and the time.

"One of the things that people are just not wanting to do is go to an urgent care facility and sit there for several hours before they are seen. They also don't want to either be around other people who are sick or spread anything themselves," said Brady. The drive-through model makes it possible for patients to practice social distancing and get treated quickly.
Here's what happens when you pull into the driveway next to Limestone Chapel. Frances Simpson, who is herself a nurse, is stationed under a red tent that you can't miss, and she explains the procedure, the cost, and gets you the urgent-care style packet of paperwork to fill out. She then radios the rest of the team that you are ready to be tested, and directs you to your next stop. That is where you are examined, your temperature and vitals are taken, and you are swabbed for COVID. Brady consults with you and talks about possible treatment options should the test come back positive.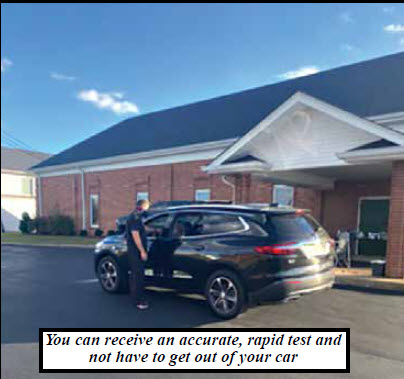 Brady and his team are able to give the kind of personal and attentive care that used to be the bailiwick of the "old-time country doc." There is no HMO-generated pressure to see a certain number of patients per hour, and because of that Brady is able to take the time needed to care for the whole patient. For example, a man came in recently who was not feeling well, and wanted to make sure that he wasn't dealing with COVID. Besides the man's concern for his own health, his greater need was connected to the fact that his wife is battling cancer, and he did not want to put her at risk. Thankfully, the man tested negative, and Brady was able to offer lots of encouragement to the man and helped him continue to be a support for his wife.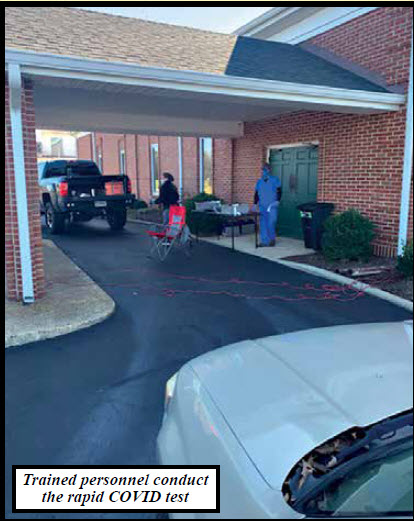 Another woman, who did test positive and had gotten through some of the toughest times, had what she tried to describe as a "foggy day" about 8 days into her recovery. She was having a hard time relating to Brady what she was experiencing, and he was able to identify the "fog" in great detail, and give her hope. For some people, the "8th-day fog" is one of the oddest things with which they contend when they are dealing with this admittedly strange disease.
"Some people hardly know that they have COVID, and others get hit hard with it," said Brady. The huge variance in the strength of the presenting symptoms has been one of the reasons that dealing with COVID has been so confusing, both for sufferers as well as caregivers. He mentioned that self-care and nutrition are extremely important when it comes to triumphing over the disease, and helping his patients to fight fear is a huge factor as well. "I have seen a lot of things over the years, and I will not sugar-coat a diagnosis; I never have. If I think you need to get to the hospital, I will tell you and tell them you are on your way," he said.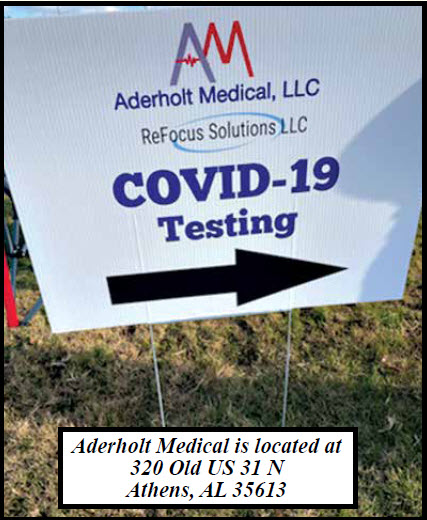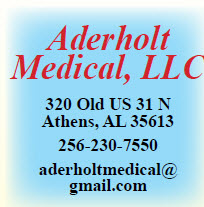 Aderholt Medical is not attached to the North Alabama hospital systems, although the test and the facility is approved by the Public Health Office of the State of Alabama. There is a similar facility in Florence that at times has 150 people come through in one day. The cost for the test is $125, which is considerably less than what you would pay elsewhere, with same-day results guaranteed. The cost of the test does not cover any prescribed medications. "If someone is diagnosed the same day they come in, we can prescribe the appropriate prescriptions as well as give support for home care in the form of various testing equipment, and we have patients check in with us throughout the day," said Brady. Aderholt Medical is also able to treat strep, the flu, stomach viruses, and other urgent care needs.
Brady's long-term plans are to possibly build a brick-and-mortar facility that would work in concert with the mobile urgent care concept. "That's a long way off," said Brady, "but for now, I just want to do all I can to help us get through COVID until it is no longer with us." The look in his eye let me know that he meant what he said, and I am glad that we have such an experienced health care practitioner in our corner during COVID.
If fast, excellent, affordable, mobile, experienced, patient-friendly urgent care is what you are looking for in these uncertain times, then give Aderholt Medical, LLC, a call today and let them help you.
By: Ali Elizabeth Turner