By: Ali Elizabeth Turner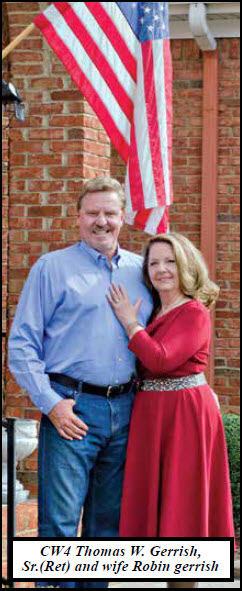 Giving gifts that truly bless is an art, and one that has an impact long after the wrapping is removed. One such gift was compiled and published during the Iraq War, and given away for free to soldiers in theatre. It was designed to bring courage and comfort in the middle of a desert combat zone. The book was entitled Psalm 91: God's Shield Of Protection, and was written by Peggy Joyce Ruth and Angelia Ruth Schum. It was filled with true stories of the miracles that had occurred in connection with its promises, some dating back to WWII. As most of us know, Psalm 91 is the one that invites one to stay hidden in the "secret" of God, as well as the protection of God from enemies, pestilence, terrors, and arrows. It also promises deliverance and long life. The Psalm in its entirety is worth remembering, especially given the year we have had. Here it is as it appears in the King James:
He that dwelleth in the secret place of the most High shall abide under the shadow of the Almighty.
2 I will say of the LORD, He is my refuge and my fortress: my God; in him will I trust.
3 Surely he shall deliver thee from the snare of the fowler, and from the noisome pestilence.
4 He shall cover thee with his feathers, and under his wings shalt thou trust: his truth shall be thy shield and buckler.
5 Thou shalt not be afraid for the terror by night; nor for the arrow that flieth by day;
6 Nor for the pestilence that walketh in darkness; nor for the destruction that wasteth at noonday.
7 A thousand shall fall at thy side, and ten thousand at thy right hand; but it shall not come nigh thee.
8 Only with thine eyes shalt thou behold and see the reward of the wicked.
9 Because thou hast made the LORD, which is my refuge, even the most High, thy habitation;
10 There shall no evil befall thee, neither shall any plague come nigh thy dwelling.
11 For he shall give his angels charge over thee, to keep thee in all thy ways.
12 They shall bear thee up in their hands, lest thou dash thy foot against a stone.
13 Thou shalt tread upon the lion and adder: the young lion and the dragon shalt thou trample under feet.
14 Because he hath set his love upon me, therefore will I deliver him: I will set him on high, because he hath known my name.
15 He shall call upon me, and I will answer him: I will be with him in trouble; I will deliver him, and honour him
.
16 With long life will I satisfy him, and shew him my salvation.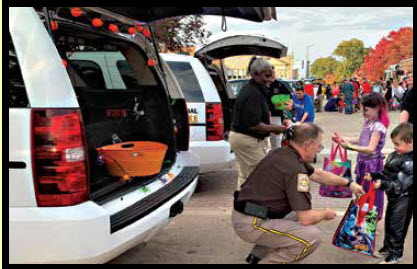 Tom and Robin Gerrish came up with an idea to bless the first responders of North Alabama who have served so tirelessly in the past year, and here is how you can be a part of it: "We are starting a Go Fund Me to shower Limestone County and Athens City law enforcement officers with a prayed over, gift wrapped copy of the book prior to Christmas." Tom spent his career in the Army, and Robin is a realtor for Crye-Leike. She also is certified to help soldiers find homes and get settled well.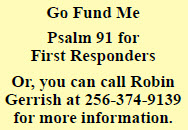 Robin then shared their idea with our Limestone Leaders Business Network International group, who quickly caught the vision and decided to help tell the Ps 91 story to the people of Limestone County, and invite them to participate. Tom and Robin went on to say, "What better time to show thanks and support to our law enforcement officers? Protecting our country is a dangerous job."
However, their vision is not confined to Athens-Limestone County. They would first love to see the book get into the hands of members of law enforcement in Lauderdale County, and Robin is going to reach out to some of her real estate colleagues in Madison County to see if they want to help as well. Her desire is to see this go viral and become a nationwide movement to remind our first responders throughout the USA that they are honored, loved, appreciated, and remembered at this historic holiday season.

As Ruth and Billy Graham said so well, "Christmas is not just a date on the calendar. It is the celebration of the event that set heaven to singing, an event that gave the stars of the night sky a new brilliance."
The books are about $8 a piece, and the question is, how many first Responders do you want to bless? To be a part of this movement, please go online to Go Fund Me and give from your heart. Thank you!
By: Ali Elizabeth Turner