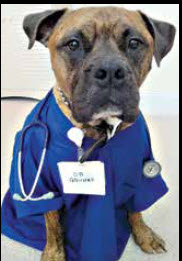 courtesy Brandpoint content
(BPT) – Your animal companion is part of the family. You care about what your pet eats, and want what's healthiest for everyone, including your pet. You also care about promoting a healthy environment and using products that are eco-friendly.
There are many ways you can provide for your four-legged friends while making responsible choices for the environment, from where you find your pets to how you care for them.
1) Adopt your pet
Adopting your pet from a local shelter helps animals in your community. One resource to find a new pet is www.petfinder.com, which also provides useful information about local shelters and opportunities to foster pets or volunteer. Having your cat or dog spayed or neutered helps to reduce the number of pets unable to find a home.
2) Feed your pet responsibly sourced and sustainably produced food
Look for companies that use responsibly, sustainably sourced food that also provides high-quality nutrition for your animal companion. For example, Purina ensures that every ingredient in their pet food serves a nutritional purpose, and they know how and where each ingredient is grown or raised.
The company is moving toward 100% zero waste for disposal by 2020 and is committed to making 100% of their packaging reusable or recyclable by 2025. Today, 80% of their packaging in the U.S. is recyclable. To learn more about the company's commitment to the environment, visit www.purina.com/sustainability.
3) Use renewable and biodegradable pet products
No matter what pets you have in your home, you must deal with waste disposal. For cat owners, cat litter has seen a green revolution in recent years. For an earth-friendly option, you can choose Yesterday's News Cat Litter, which is made from recycled newspaper.
For dog owners, many brands of biodegradable bags are available for scooping up feces when you're on daily walks.
If you care for animals like guinea pigs or hamsters, you can find eco-friendly bedding made from products like biodegradable, compostable recycled paper fibers or wheat straw. Check the labels to ensure the materials are biodegradable.
4) Find earth-friendly grooming products
Plenty of pet shampoos and other grooming products are made without fragrances. Dogs have a strong sense of smell, so added chemicals can easily bother them. Look for pH-balanced soaps and shampoos containing no alcohols, sulfates, parabens or other preservatives. These options will not only prevent irritation or allergic reactions in your dog but will make the bathing experience more pleasant for you as well.
If you use a groomer, ask what products they use, and if their products are not natural, ask if they'd let you bring products you are more comfortable with.
5) Play with recycled pet toys
Plenty of dog and cat toys use recycled products or renewable natural resources. For example, you can find many dog chews or tug toys made from hemp fiber or canvas — with minimal packaging. Look for toy and product labels that tell you what materials are used and whether the products are eco-friendly. As with all toys, ensure that it is safe and appropriate for your specific pet based on his or her play style.
For cats, DIYers can find great satisfaction creating inventive cat jungle gyms using items like recycled wood pallets and carpet scraps. It's a good feeling to provide your pets with products that will not only keep them safe but are good for the planet as well.
When choosing to buy products for your cat or dog, ask or research the company on the internet to find out more about the recycled or reclaimed materials used, or how they were processed, to ensure they're safe for your pet.
Today there are many choices for pet owners looking for food, toys and other supplies made in an eco-friendly way. No matter what pets you share your life with, you can help the planet by choosing responsible, sustainable products that will provide them with a healthy, happy life.